Germany's most innovative companies
A minor example of our capabilities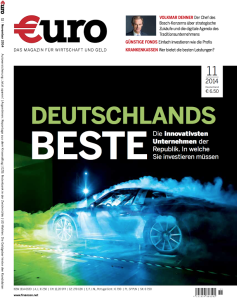 Together with one of the leading German business magazines, the €uro magazine, we have benchmarked 70 of the German publicly listed companies. Our findings are dealt with in the title story of the November 2014 edition of €uro:
We can measure and benchmark innovation forces with all our global data and our skills in the fields of innovation management, IP practice, data acquisitions and analyses. This makes the difference and allows picking the right indicators for almost any criteria of interest. For the innovation benchmarking we have developed a model on the basis of business and technological figures, global patent data, stock data and have also considered peculiarities of industrial sectors as well as economic cycles.
Our model has undergone several tests. The DIX, Germany's new stock innovation index, developed by the €uro magazine and us shows that the companies we considered to be the most innovative ones have clearly outperformed compared to the other publicly listed companies. This demonstrates that consequent and systematic innovation activities pay well off: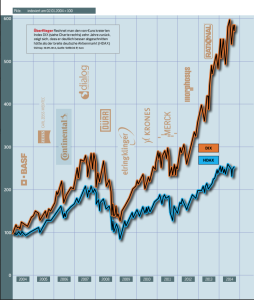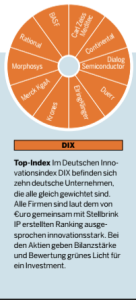 New big steps in development and increasing speeds in most fields of industry make it necessary to analyze the situation carefully and in detail. Managers, investors, economists, start-ups, analysts, business consultants and many others will appreciate our in depths insights with finely granulated technology clusters, benchmarks and trend analyses.
Should you be interested in our findings, should you have any remarks or should you like to receive our periodic Newsletter, please let us know.
Not to forget, we would be happy to clarify the status quo for you and to make your investments fit for the future.